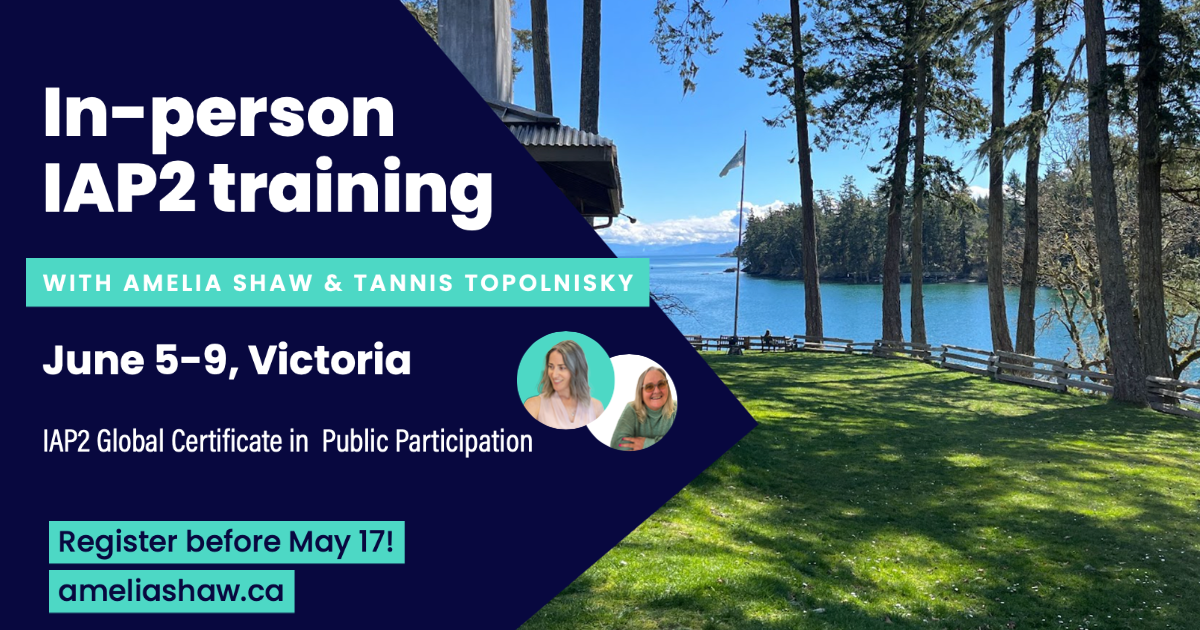 Training Level: Developing
Description:
DON'T JUST TRAIN FOR PUBLIC ENGAGEMENT: IMMERSE YOURSELF IN IT!
Amelia Shaw and Tannis Topolnisky, two longtime professionals in P2 and training, are excited to present a one-week, full-immersion course in the IAP2 (International Association for Public Participation) Global Certificate in Public Participation, June 5 through 9, 2023 just outside Victoria, British Columbia.   This is part two of the two part Global Certificate.
Part Two:
Applying Methods focuses on exploring a variety of methods used in implementing public participation and engagement and considers how to design and integrate those methods into the public participation and engagement practice process. Participants will learn to select, assess and create effective elements of methods to work meaningfully with participants. See course agenda.
+++++ Register before May 17! ++++
Organization: Amelia Shaw Consulting
Phone: 778-231-2353 | Email: info@ameliashaw.ca
Registration/More Info Link: https://www.ameliashaw.ca/training
Online or In-Person Training: In-Person
Instructions/Location Info:
Lester B Person College – 650 Pearson College Drive
Victoria, British Columbia V9C 4H7
Sessions/Dates
Start Date & Time: June 8, 2023 at 8:30 AM
End Date & Time: June 9, 2023 at 4:30 PM
Free or Paid? Paid
Price: $850
Notes:
Save $125 if you bundle the three courses. For more information go to https://docs.google.com/document/d/1gwF4pDu-WV03SwGjWDbUYMmyTb7K0Z2IqnWGqz_eAlU/edit
Registration/More Info Link: https://www.ameliashaw.ca/training